First Interstate Arena Information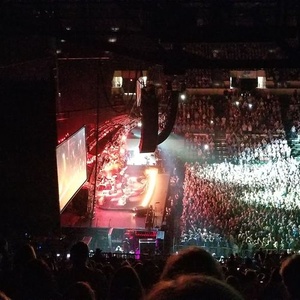 First Interstate Arena, once known as MetraPark Arena, is a multipurpose arena located at MetraPark, Billings, Montana's fairgrounds. The arena is built to hold over 10,000 fans comfortably as they watch the biggest shows and performances in the state. From sports, to concerts, to special live events, there's plenty of entertainment to go around at the venue.
And while it's still one of the hottest venues around, it's also got history. In 2005, the arena celebrated its 30th anniversary and from 2010-2011 it had its latest renovation.
History
When the Arena was first completed in 1975, it was known as the METRA. It was built at the Midland Empire Fairgrounds which was later named METRAPark. The arena is owned by Yellowstone County.
The arena has stood strong ever since then, including coming back beter than ever after it was hit by a tornado on June 20, 2010. The arena was remodeled from 2010-2011, which repaired the damage from the tornado and added brand new amenities, including improved acoustics, new restrooms, and easier access parking areas. And after its reconstruction, Elton John played its first concert on April 10, 2011.
Concerts
The Arena is the largest indoor concert venue in Montana and hosts an average of 9-12 events each year. This includes 2015 when The Eagles set a record for the largest grossing concert at the venue with over $1.4 million tickets sold.
The big draw for music lovers is the excellent acoustics and sightlines which keep fans in the action from all seats in the house. And that includes concerts by some of the biggest names in the industry. These performers include; Beach Boys, Black Sabbath, Garth Brooks, Johnny Cash, Cher, Def Leppard, John Denver, Neil Diamond, Elton John, Fleetwood Mac, Foo Fighters, Foreigner, Merle Haggard, Jethro Tull, Lynyrd Skynyrd, Tim McGraw, Metallica, Mötley Crüe, Willie Nelson, Nickelback, Rush, Bob Seger, Slayer, George Strait, Styx, Carrie Underwood, Van Halen, and ZZ Top.
More First Interstate Arena information:
Ticket Policy:
Click here for our recommended ticket marketplaces ticket policies and information on authenticity guarantees.
Seating Map:
Click here for the First Interstate Arena seating map and different seating sections.
Parking Information:
Click here to read about the First Interstate Arena parking arrangements.